Killer Deals For Original Launch Tools !
2017-12-26
2018 New Year Promation For Original Launch Car OBDII Diagnostic Tools : 8" X-431 V Tablet and Launch X431 V+ available at autocardiag.com,Check the Launch Tools Discount Details below
$1196USD Launch X-431 V 8" Tablet For $899USD +DHL Shipping,25% OFF !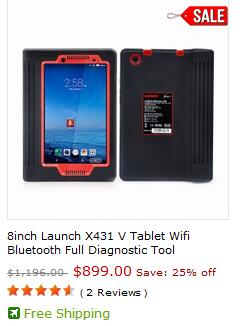 Launch X431 V 8" Tablet was regarded as the best and the most powerful multi-vehicle diagnostic tool that specially for Android system.X-431 V can provide a professional full-system diagnose for full car model.
X-431 V 8" Tablet Diagnostic Tool Official Features
1.Original one with 2 years free online updating service.
2.Stylist and fashionable tablet tool ,lightweight and easy and conevience to use.
3.Best universal diagnostic tool for android system.
4.8"Multi-touch capacitor screen.
5. Supports wifi/Bluetooth, Android System,one click update, allows you to update software any time and any where freely
6. Supports up to 69 car brands about 220 car models from European, USA and Asian.
7. Full diagnose function and fast running speed,Reasonable PDA design, easy to carry
8. Multi-language: English, Chinese Simplified, Chinese Traditional, German, Japanese, Russian, French, Spanish, Portuguese, Polish, Turkish, Dutch, Greek, Hungarian, Arabic, Danish, Korean, Farsi , Romanian, Serbian, Finnish, Swedish, Czech
9. Works with mini printer to make you see diagnose data printed by paper.
10. Numerous Additional Functions: Photo, video, multimedia, other software applications,etc
11. With special function such as BMW idle study, BMW Injection rate adjustment, BMW battery replacement, Nissan matching key,etc.
15% OFF For Original Launch X431 V+ Tablet Wifi/Bluetooth Global Version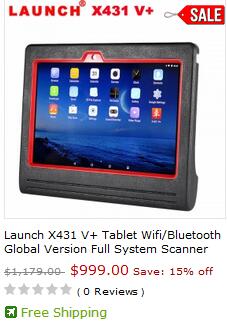 X431 V+ Official Features
1.High configuration of hardware,Android System,fast operating spped
2. 10.1 inch multi touch capacitor screen gives you better view of diagnose and data stream.
3. Supports 72 car brands from USA, European, Asian and so on.
4. Disgnose through wifi/Bluetooth and update by one click, bring more convenience to your update.
5. Multi-Language: English, German, French, Italian, Spanish, Portuguese, Polish, Russian, Japanese, Traditional Chinese
6. Original package from LAUNCH with full time technical service and guarantee
7. Portable and reasonable PDA design, easy carry with small size.
8.Numerous Additional Functions: Photo, video, multimedia, other software application,etc.
Both of these two Launch Tools was based on Android system,just as we have seen, the Launch X431 V+ is the updated and powerful version of X-431 8" Tablet, so if you are looking for a super powerful tablet tool on Android system,then you can give X-431 V+ a shot,otherwise,the 8" Launch X-431 V Tablet is enough for you.
24hour Online Customer Service:

E-mail:Autocardiag@gmail.com
Skype:AutoDiag
Whatsapp:86-13667154167