Cheap Fgtech 0475 Galletto V54 Tested Successful Car Models !
2018-02-28
Fgtech FW0475 was the cheapest but professional ECU Programmer for all cars , trucks , motorcycles,Marine,BDM MPCxx, BDM Boot Mode,checksum.FGTECH FW0475 ECU Progreammer can commuciate via OBD II and BDM, supports online operation,without tokens limited and so on.
0475 Fgtech was one of the big welcomed ECU Flasher Tool by tuners for its cheapest price,top quality,stable performance as well as univeral vehicle supported.
And right now,you can get quality Fgtech 0475 at cheapest price here : Cheap Fgtech 0475 Galletto V54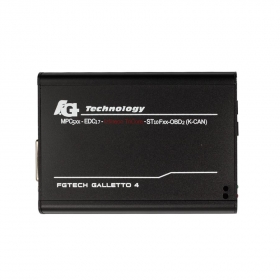 And following is autocardiag.com customer's tested ok car list with FGTech FW0475 feedback,check below
Successful
1. EDC16U34 (03G 906 021 PD) via obd2 r/w caddy 2010 1.9tdi
2. Z10XE Opel Corsa 1.0 (ME1.5.5) on the bench r/w
3. Z18XE Opel Zafira Simtec 90 71.1 r/w (24kb file!!!) on the bench
4. Fiat Stilo 1.6 16v 2001y ecu 5NF.T1 via OBD2, on the bench via K line r/w
5. Land Rover 2.0 td4 diesel DDE4 Bosch r/w via OBD2
6. EDC16U1 r/w via OBD2 Touran 1.9TDi, Seat Altea 1.9 tdi
7. Delphy DCM3.4 Pezo 308 2.0 HDi 2007 via OBD2 (W not tested, just R)
8. EDC16C3 via OBD2 ok, full BDM on the bench r/w (grand vitara 1.9DDiS, 2007)
9. EDC15 PD 1.9 passat via OBD2 r/w
10. EDC15C2 Peugeot 406 restyl 2.0 HDI 2004 via OBD2 r/w
11. EDC15C7 r/w via OBD2 Fiat Marea 1.9 JTD 2002god
12. EDC17CP14 Audi A4 2.0 tdi 2009y (03L 906 019 AL, 03L 906 022 KC) r/w on the bench boot
13. Sagem S3000 on the bench read Jtag renesans
14. Astra G via obd read Delco 1.7 isuzu
1. Golf G4 IAW4LV.H PV2 MY2 (036906034BB ) via OBD can not read even ecu data
2. BMW F10 2010y EDC17CP45 TPROT10 on the bench…boot SAK1797 only ecu data…can not read ee not read int. flash

24hour Online Customer Service:

E-mail:Autocardiag@gmail.com
Skype:AutoDiag
Whatsapp:86-13667154167